With the world learning how to live again maybe it's time to finally do some of that European motorcycle touring that you have been dreaming about for the last few years.
Having nearly clocked up a quarter of a million miles on two wheels touring around Europe as well as the likes of Alaska, Mongolia and South East Asia, I've learnt that good planning and preparation is important to ensure you have not only a safe trip, but a good one too.
If you're the type of badass rider who throws caution to the wind and jumps on your bike loaded up with whatever you have lying around, this is probably not the kind of article you're looking for. In fact, you're probably off somewhere and not reading this…
However, if you prefer some kind of plan or itinerary, welcome. You've come to the right place. Here are my top tips for anyone thinking of doing some motorcycle touring through mainland Europe.
The Best Touring Motorcycles
Which bike to take on a trip will forever be a contentious topic amongst the motorcycle touring community. From small 125cc motorbikes to huge Adventure bikes, there are thousands of people rallying for their favourite for many reasons.
Let's try and keep it simple, the best bike for YOUR road trip is the one YOU'RE comfortable with. If you consistently ride a Honda Fireblade, then go on this, likewise a moped or scooter.
What you ride day-to-day and are most familiar with is the best bike for your motorcycle tour.
Taking a motorcycle abroad to ride long distances with different road rules, language barriers, driving styles and more will be enough to keep track of without adding an unknown motorcycle you've barely even looked at, into the mix.
Ah, I hear you cry, "but I plan to go with my partner/friend/random hitchhiker I found at the petrol station. With all my gear my 125 will never cope with this". And you'd be absolutely right, you need to know who you're taking, what you're taking and your desired means of accommodation and eating.
If you are going with a passenger, that's a decent amount of space and weight accounted for already. If you're looking to camp and be as self-sufficient as possible, then your packing space reduces even further. So be mindful about what you're taking and of course, which bike.
However, despite what you may have read in some of the biker press your choice of transport doesn't need to be a big ol' Harley Bagger or one of those behemoth 1200 cc 300 kg Adventure bikes.
I've gone 2-up motorcycle camping across Europe a few times on a Honda CB500X with full camping and cooking gear, and the bike didn't miss a beat.
I've also gone 1-up motorcycle touring to Mongolia on a Sinnis Terrain (which is a 125cc motorbike) with the full camp life gear along with a few spares including tyres, tools and camera equipment. No, it wasn't quick, but it did the job fantastically, both on and off-road as well I might mention.
Comfort is an important factor when you're planning to cover a long distance in the saddle, so along with using a bike you're already familiar with, it's a good time to take a long hard look at it and see what you can do to make it suit you more.
Modifying the seat, handlebars, footpegs, screen and the suspension settings are all things that can make the difference when long distance riding to allow you to go further without any bodily repercussions after.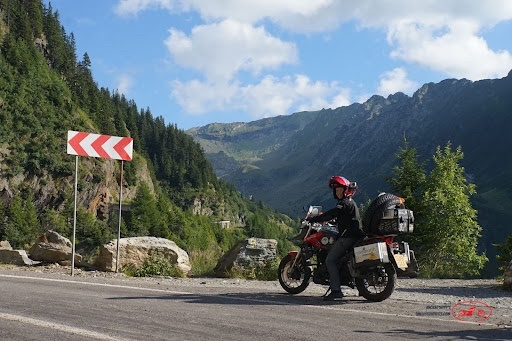 Motorcycle Luggage
Travel light
The old saying "less is more" rings true when it comes to motorcycle touring. Always try to take the least you can, if you're on the fence about taking a particular item, then it's a no.
Europe has enough places to shop at so you can always buy things along the way if you really need to, and no, you don't need a clean set of underwear everyday on the trip. You can launder along the way, buy new ones (a little wasteful here but can be done) or accept that you might get more than a single day's use out of things.
I can hear people groaning already but you'll thank me for it when your panniers aren't stuffed to capacity with socks.
Clothing

When I go on a motorcycle trip for a week or two, as well as my protective gear, my clothing comprises:
Underpants x3
Large riding socks x1
Normal socks x2
T-shirts x2
Zip-off Trousers x1
Swimming/casual shorts x1
Walking shoes/boots (if hiking)
Flip-flops
Thermals (If in colder seasons)
Packable down-jacket
Waterproofs

Along with my washing gear, these all fit nicely into a 36L pannier with space to spare, leaving plenty of room for any remaining gear. Remember layers are your friend, there's no point in taking a big coat if you can only utilise it in one situation
Unless you're planning to go to some kind of gala event there really is no need to pack anything more than the above and if you do leave something behind or run out of clean clothing, there are plenty of shops around for you to pick up whatever is missing.
If you're not one to stay a little smelly, launderettes are still a thing in the world and will also give you time off the bike to explore places. Many hotels and hostels all have laundry services as well.
Camping Gear & Food
If you're going to be self-sufficient, that's fantastic. However, regardless of how long and how far you plan to be touring, you don't need to have 3 days' worth of your own food with you. You'll be surprised how much space it takes up alongside your cooking equipment.
One day's worth is enough and there are many shops around for you to top up on food as you go. It's also a great opportunity for you to experience more local produce and get to know the locals.
Your motorcycle camping gear doesn't need to bulk your bike out either, my camping gear for a long trip into Europe would consist of the following:
Tent (This is where I'd recommend taking a larger than advertised tent to accommodate your bike gear and other bits while sleeping. If you're going solo take a 2-man tent, with a partner, take a 3-man tent)
Sleeping bag
Sleeping bag liner
Head Torch
Gas bottle cooking stove (So many places across Europe sell the gas canisters and they tend to last a very long time)
Cooking Pot
Cooking Pan
Spork
Mug
Flint and Steel/Matches/Lighter
Cleaning Sponge (This one is easy to forget!)
With the exception of my tent the rest would fit in the remainder of my 36l pannier, leaving me an entirely free pannier for a days worth of food, my camera equipment and of course, space for souvenirs.
Tools and spares
Other than a puncture repair kit, your under-seat standard tool kit is more than enough for a motorcycle tour into mainland Europe; anything more is essentially overkill as there are many garages about who can help to fix any problems that may arise.
Also, most insurance companies have European breakdown cover as well these days, now's probably a good time to check yours.
The same applies with spare parts, a set of spare bulbs is useful and doesn't take up any space (you're also legally obliged to carry these if travelling through France along with a high-vis vest and alcohol breathalyser test) with anything more being overkill and overpacked.
Having less to travel with means less weight on the bike and also less on your mind as well. No need to worry about something you haven't brought along with you.
Making sure you've had the bike in for a full service, the tyres aren't past their sell by date, you have the right type of helmet and that the helmet is fit for purpose before you go away will also give you peace of mind that you have done all you can to ensure the trip will be as drama free as possible.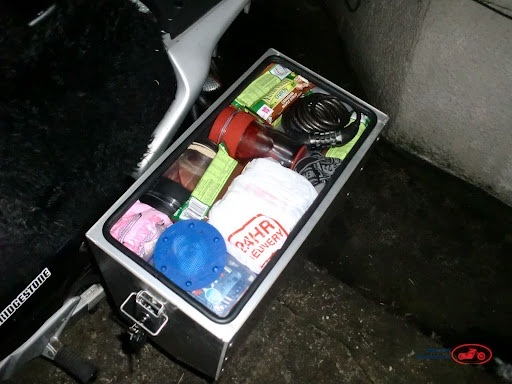 Other bits and pieces
We all like to take photos and capture our memories on our time away from the norm, so taking a camera is a natural thing. However, considering the latest technology in smartphones these days, it should be perfectly fine for selfies and hundreds of photos of your bike with a slightly different background.
If you are more of a budding photographer and insist on taking your bulky DSLR for those perfect images try and pack it sensibly.
I've previously had a £2000 camera vibrate itself to death on the pot-holed and bombed roads of Kazakhstan. Europe does tend to have a better quality of road but it is certainly something to be mindful of when deciding what to take and where to pack it.
A small first aid kit is a sensible idea. Make sure it has some antiseptic cream and band aids.
A motorcycle sat nav is also a good idea. The small and unobtrusive Beeline Moto can be easily removed and kept safe when you are parked up and doing some sight seeing on foot. Check out the Beeline Moto review.
Everything runs from some kind of microport these days, whether its USB or Lightning there's no need to take 6 different chargers and several travel plugs. Just get a Quick Charge Travel USB charger and this one plug will do everything, including laptops, just don't forget the leads!
My Pick
65W PD USB C Charger Plug
Multi port travel fast charge adapter suitable for Apple devices such as iPhone, iPad and MacBook plus Android phones and tablets.
Paperwork
The part of a trip we all wish we could do without but is the most important thing that can make or break a motorcycle tour. Thankfully going across Europe, even with the more recent changes due to the UK leaving the EU, is actually relatively simple.
"All" you need is the following:
A valid passport
A valid driving licence
Vehicle registration document
Copy of insurance certificate (no green cards needed*)
Original V5c or "Motopassport" as it is commonly known to the rest of the world
A "UK" sticker on the back of the bike (either of the below are legal)
High visibility vest and breathalyser kit (Not quite paperwork but it's a legal requirement to have these when travelling through France)
Vignettes
COVID-19 PCR test results (when and how many vary depending on country, all up-to-date information can be found here )

*A Green Card is no longer needed at the time of writing despite the initial changes after Brexit. Always check before you travel as rules have a tendency to change without public announcement.
Other bits and pieces you might consider taking in the admin side of things:
Personal insurance – for any medical emergencies or loss of personal items
Ferry / tunnel tickets
Accommodation reservations
Currency and bank cards – These days most places accept credit and/or debit cards from all over the world however it is useful to have a bit of cash just in case. I generally take 100 Euros as a backup but never end up using it.
Route Planning
This is where your own individual preferences will shine through. Maybe you like to stop at small villages and take a look around, perhaps you prefer spending more time in the mountains snaking along the road from pass to pass.
Whatever your poison there are a few things you can do to make sure you get the most from your time away,
Location, Location, Location
So, Europe. It's a pretty big place and there's far too much to see in one motorcycle road trip, so where do you go? To answer that you're going to need to ask yourself a few questions first:
Are you looking for a more relaxing motorbike trip or active one?
Do you prefer exploring cities or rural areas?
What is it in these areas you like to see?
Do you prefer seeing things from the saddle or on foot?
Do you have any other interests that you want to do on this trip?
Answer these and voila! You'll have a basic idea of what you're looking forward to and how much time you'll have to do it in. A personal example of this:
Holiday time is adventure time for me. This means hiking, climbing and various other things along this ilk within forests or mountainous regions.
With this in mind, I'd then research great places to climb or hike in Europe, this in turn would point me in the direction of the Alps, Dolomites, Tatras etc. I'd then locate each on a map and make a choice (or several) based on distance, culture, cost etc.
That's giving me my main destination and I just need to expand it from there.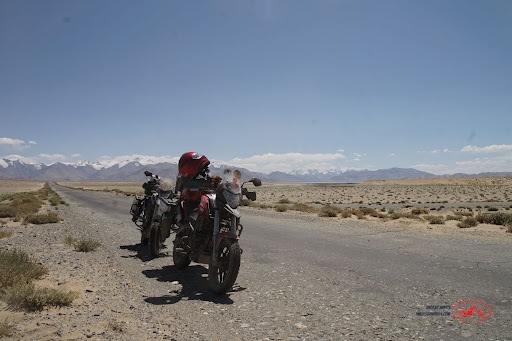 The key part is knowing what you do and don't like and conducting your research from there, and before you know it an itinerary and route will unfold right in front of your eyes.
Now you've got your route and itinerary all set you can breathe a sigh of relief, the difficult part is done and you can go and enjoy this wondrous plan you've put forward for yourself.; and many do.
However I've met many people who have planned their perfect road trip to the last minute with GPS coordinates of every place they're visiting and staying at and restaurants they're going to eat in and then, they come back disappointed.
Why, you ask? Because everything didn't go completely to plan. Yes, they planned for absolutely everything except, in an ironic twist, for when things didn't go to plan.
An important lesson I learnt more and more over my travels is that anything can change at any given moment and these tend to lead on to great opportunities rather than set backs. Because I've missed a train or broken down or had issues getting through a border, my plans have had to change but something amazing has always followed down these paths.
Solo or group?
If you're going solo then great, all the decision making is up to you and the only negotiating you need to do is with the person in the mirror. However, if you're planning to go with a partner or friends then making sure everyone's wants and needs are met can be difficult.
To help prevent disagreements and all that can follow to ruin a trip, it's best to sit down beforehand and talk about what each of you wants to see or do on the trip.
Fun fact, you don't actually have to do everything together. If you reach an impasse where you want to go and do one thing and others want to do another, there's no reason you can't go your separate ways and meet up afterwards.
This way everyone gets to do what they want, no one harbours any resentment and you'll have things to tell each other when you meet up again.
Be prepared to travel at the pace of the slowest rider. Going on a trip with more than just yourself riding means it's likely that others will have a different bike, experience and pace.
Having to go at someone else's pace whether slower or quicker than you are used to or comfortable with can be frustrating and also scary. As a result there tends to be a collective of negative emotions bouncing around that can upset things.
I highly recommend testing the waters beforehand with day trips, if you're happy with the pace then this should be fine on long distances.
However if there are issues you'll be able to address them before spending a few weeks grinding your teeth rather than enjoying the roads.
There are a few things i've learnt over the years when travelling with others who have a different pace to myself:
– Communicate often, no one is a mind reader, the more you talk the more you can address things rather than letting them bottle up. Discuss the pace and how you feel about it each time you stop.
– Set way points on the days travelling and agree to meet up there at a specific time if the pace is too different, you all can then go at your own pace and everyone still gets to experience the same journey.
– If you are the quicker rider AND enjoy things like taking videos and photos then look at it as a blessing in disguise, you can stop and get the camera out more often without holding anyone up, and your friend's will appreciate all the footage you get of them as they sedately ride past you.
Rest
I cannot emphasise this enough. Rest. Frequently. It's far better to have 10 minutes off the bike every 45 mins than an hour's break every five. Not only will your body thank you for it but your mind will not feel as fatigued as well.
Alongside this ensure you eat enough and well. You may feel like you've just been sitting down all day and yes, you technically have been, but you're still having to move the bike, resist the wind and focus on riding, this all burns up energy that needs replacing.
Motorcycle touring burns from 150 to 600 calories an hour dependent on how hard you are pushing it.
How Many Miles Should I Cover?
You need to be realistic with your daily mileage. Yes, you'll get further afield to more places by doing 200 + miles daily however will you actually see places?
My very first European motorcycle tour I had 200 – 250 miles planned out for each day with one day off the bike in every five.
This was ambitious but I was in my mid-twenties, fairly fit and confident that I'd be able to handle the mileage without a problem.
Within a matter of days I found out that whilst I could do the miles, in order to be able to actually make my itinerary work I'd spend most of my time on the motorways. This quickly became both physically and mentally draining and I vowed not to do this again in future.
I'd recommend 100 – 150 miles daily, which is what I did the second time around. With the plan to spend more time in the Alps region (Southern France, Northern Italy and Switzerland).
The first two days I did big motorway miles from the UK to the south of France. With those two transit days done I could then spend my time more leisurely weaving on the mountain passes, stopping frequently to take photos or check out the smaller rural villages and cafes on the way.
This time around, I didn't feel rushed to move on or tired every day.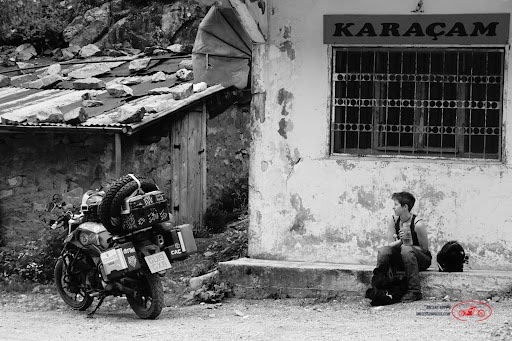 Accomodation
This is where individual preferences really come to light, some of us like to think of ourselves as hardcore adventure types that will wild camp anywhere and just bivvy on the roadside.
For others this sounds like some kind of horror story or quite simply can't really live that way anymore.
This is your trip and you have no need to prove anything by bivvying down under the stars. The wonderful thing is there are so many places to stay in different ways:
Hotels
Friend's houses
Airbnb
Hostels
Camping
Couch surfing
Wild Camping

I've done them all and personally enjoy a mixture as they all offer their own pros and cons as well as budgets to match. You'll already know what is best for you so go with that.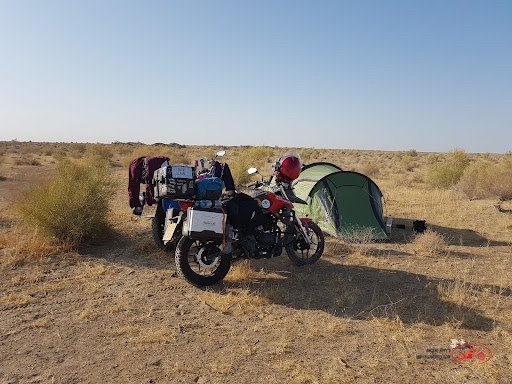 How Much Should I Budget for a Motorcycle Tour?
Well, quite simply that's up to you. I could tell you how much my trips cost me but your budget will depend greatly on all the above or visa-versa. As we know our budget can affect how we plan and spend our trips.
Don't let cost be a factor, you will likely only be in that place once in your lifetime, enjoy it to the fullest and don't regret not doing something. You can always make more money later on, you can't go back and remake memories.
Final Thoughts
There's so much that can go into a motorcycle trip, small or big, and the more you put in, the more you'll get back out.
However it's important to remember that road trips rarely go to plan and that's okay, that's why it's called an "adventure", for you to experience new things and face new challenges in unfamiliar countries. There is always a solution to anything that may arise.
My time motorcycle touring has fundamentally taught me that no matter how bad the world may seem, people are awesome and will help you in need, whether with food, help after an accident, offering places to sleep, directions, tea and mostly encouragement.
Just go with the flow and see what amazing things the world has in store to show you.